If a healthier workforce is on your holiday wish list, tapping into the data that wearable devices can provide may be the perfect way to ring in the New Year.
Wearable devices
at work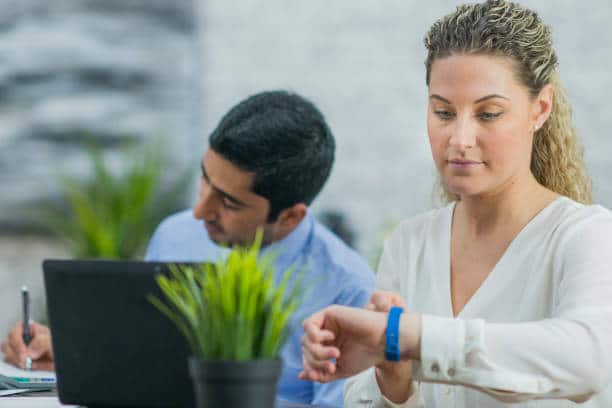 Wearable devices (fitness trackers, smart watches, and mobile apps) are a standard part of many employee wellness programs. Now is the perfect time to suggest to your employees they add a wearable device on the top of their holiday gift list.
These devices contain a wealth of information that can help you motivate and reward employees with incentives.
Chances are pretty good your employees or wellness program participants use wearable devices or mobile apps that track and measure health-related activities and biometric data such as:
Steps
Minutes of physical activity
Stairs climbed
Sleep duration
Heart rate
Diet/Calories
Weight
Calories burned
Stress levels
Are you using wearable devices to improve population health?
Wearable devices:
The top fitness trend of 2020
If you're looking for a way to help your employees or wellness program participants develop healthy lifestyle habits and change behaviors, tapping into the power of wearable devices is a good place to start.
In the Worldwide Survey of Fitness Trends for 2020 the American College of Sports Medicine recently named wearable technology the number one fitness trend of the year.
"Wearable tech has become ingrained in today's culture, and the industry shows no signs of slowing down," says Dr. Walter Thompson, past president of ACSM. "Tech advances have made it easier than ever for users to collect important health metrics and work with fitness professionals and health care providers to improve exercise efficiency, develop healthy lifestyles, manage chronic diseases and, ultimately, increase quality of life."
Wearable device
compatibility
So what do you need to make wearable technology work for your wellness program?
It's pretty simple. You need an easy way to integrate wearable device data with your wellness platform. So that's what we did:
The FitLyfe 360 platform integrates with most fitness tracking devices and many third-party apps, and it's currently compatible with:
Apple Health
Fitbit
Garmin
Google Fit
Microsoft Band
Polar
Select iOS and Android apps
With consent, wearable device data displays in the FitLyfe 360 dashboard for you and your participants. Use the data to track and measure progress, develop incentives, and offer rewards for achievements.
5 data-driven tips for
healthy-holiday habits
It's finally time to open the presents. If you're looking for ways to help your employees or wellness program participants be healthier during the holidays, wearable devices can help.
Here are some things you can do.
Holiday Steps Challenge. Host a daily steps challenge from now until New Year's. Offer an incentive/reward to all employees who log 10,000 steps a day. Invite participants to share their daily wins to encourage and motivate others to stay active.
Winter Zzzs Wonderland. For best health, most adults need 7 to 9 hours of sleep a night. Host a challenge to encourage employees to get adequate sleep. Most wearable devices track sleep duration, sleep patterns, and quality of sleep.
Jingle Bell Hustle. Most people know regular exercise is important. But not everyone knows what hustle looks like to burn calories. Host a challenge to encourage participants to elevate their heart rate during exercise. Target heart rate for moderate exercise is about 50 to 70% of maximum heart rate, or about 85 to 150 beats per minute for most adults. Many wearable devices track and measure heart rate during activity.
Daily Weigh-In Delivery. Invite your participants to deliver a daily weigh-in report during the holidays. Many wearable devices and mobile apps can track weight and help participants set weight loss goals. Research shows stepping on the scale daily helps people be more mindful of their food choices and increase activity level to keep weight in check. The goal: Maintain don't gain, during the holidays..
Chill Out Challenge. Ever experienced a stressful holiday moment? It happens to just about everybody. But managing stress in healthy ways can help. Many wearable devices track stress levels and send notifications when stress is high. Host a challenge to encourage employees to use the Calm app or something similar to practice deep breathing and relaxation techniques. Chill out, calm the mind, and the body.
Want more tips on how to use wearable devices for wellness program success?
Schedule a demo to learn more
We are sorry that this post was not useful for you!
Let us improve this post!
Tell us how we can improve this post?